Nearly 200 people recently gathered at the Alumni & Friends event where they saw old friends, worshipped together, listened to the impact MST and Eastern is having in the life of their students, and swapped life-journey stories with each other.
It was the first time alumni met on campus since 2019 and the first ever alumni event to bring together former students of Melbourne Bible Institute (MBI), Bible College Victoria (BCV), MST, Tabor College and Eastern College Australia. It was also the first time MST's 100th birthday, which was in 2020, could be properly celebrated.
Former BCV Principal David Price has been to many alumni events and says they are always an enriching time.
"These events are for people who are committed to the mission of God among the nations of the world, be it here in Australia or overseas," he said. "It's also for those who share a common commitment, and in knowing how to
support the ongoing influence and commitment of the college to continue doing what it's doing."
Judy Wilkie, former Tabor College Victoria lecturer, and now at MST and the Centre for Theology and Psychology (CTP), loves to hear how people's lives have changed.
"That's the whole reason we exist, to equip labourers for the harvest and help build disciples, preparing them to be deployed for the kingdom," she said. "Any time I hear a story of someone who is persisting in kingdom work, and is on track with the Lord I think 'Yes!'. It's absolutely thrilling."
Judy feels that celebrating people is just so important.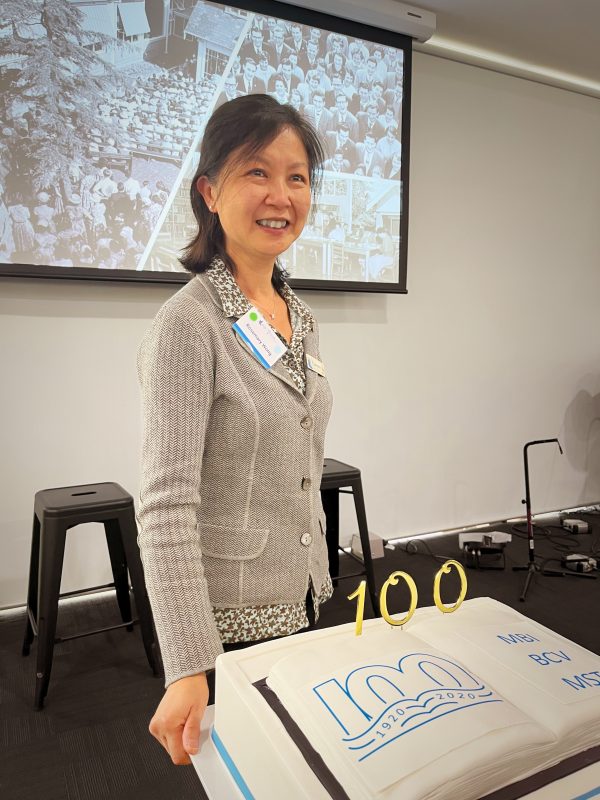 Meeting together in the chapel and sharing some food together reminded former student Scott Cove of studying at college. He says he became quite nostalgic, not having visited the college in a number of years, and that it was great to catch up with old classmates.
"It's inspiring to see the direction the college is taking, especially on the teaching side of things," he said. "The Arthur Jeffery Centre was impressive."
Scott, who studied at MST from 2012 to 2016, believed the ethical training he received at college has definitely come in handy in his job in cyber security—particularly the philosophical underpinnings of both the Christian faith and the theological study.
Student Services Officer Iona Kroussoratsky says there is joy in the experience of gathering together, in the same room, with others who have also studied at the college, "Whether it be six or 60 years ago … they come away enriched from worshipping God together in a posture
of unity before the Lord.
I stood by the main doors to farewell people and time and time again people were saying how wonderful it was to see so many past students gather together."
Iona says she met one gentleman who hadn't reconnected with his former classmates in more than 60 years. "What a reminder of God at work in the lives of so many who have studied in these halls and rooms," she said.
Dean of Students Daisy Barnard says plans are underway for alumni events throughout 2023, including another event like this one in November.